Our favorite graphic designer Lauren Haddox Designs has turned our Birthday-themed Party Pack into a Frozen color scheme, and we have added embellishments to tie it all together.

Here is the FROZEN theme that will detail what we now provide in our ultimate party packages:
We provide the banner, framed decor, cupcake stand, cupcakes, cupcake toppers, and accents as pictured above.
We provide a Frozen Poster displayed in the party room! (Empty space is where the pizza boxes are placed).
We provide the waters and capri suns with themed accents!
We provide a birthday-themed gifts Sign that is placed on the cart that tells your guests where to place their gifts that our party assistants will unload onto the stage for present time.
We provide the sugar cookie party favors with either the initial of the birthday child or the age that they are turning on their birthday.  And we will decorate the theme with accents that tell your guests "Thank you!"
We provide the birthday-themed printables and a sign that welcomes your guests to the table.
We provide a welcome greeting so that customers walking in know that they are walking into a party for a special guest of honor.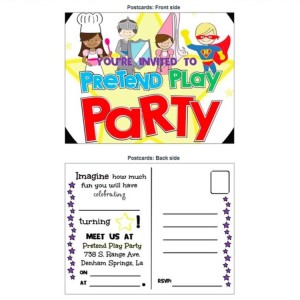 We provide invitations for the expected number of guests (up to our regulated number of expected guests), that is optional and the responsibility of the customers to pick up in advance upon paying the deposit.
And finally, we provide the silver table covers and one-topping pizzas unless you opt out (due to the party time), in which no reimbursement will be given.

If you choose to order more food, cupcakes, or sugar cookies for your adult guests you may at an additional cost. 
Only perishables go home with the family of the guest of honor.

ALL other inclusions are the property of Pretend Play Party and (extras) do not go home with the family of the guest of honor.

Other add-ons that may be added to your party at additional costs include:
FACE Painting by Animated Art (contingent on booking availability):




1) White Cupcake Cups to dress up the cupcakes.
2) Balloons
3) Ice Cream and Spoons

We hope that you enjoy your party at Pretend Play with our new Ultimate Party Package!
Choose 2 colors, book the reservation with at least two weeks notice, and we will take care of the rest!